Integrations & APIs for a First-Class Experience
Avionté carefully selects partners with best-of-breed technology in staffing and recruiting to build a tech stack that meets your specific needs. For added functionality, Avionté's APIs offer a proven means of customizing and expanding your system.
Global HR Research
Easy-to-manage background and drug screening services
Request a Demo
Integration Overview
Global HR Research (GHRR.com) has earned the trust of Fortune's Top 50, Forbes' Largest Private Companies, and Inc's Top 5000 companies across the U.S., by leveraging our proprietary employment screening platform, Clairiti, and a team of expert consultants. That trust has been consistently recognized and awarded for over a decade by the industry's most influential associations and news publications including HRO Today Magazine's "Bakers Dozen" List of top national background screening providers and by Workforce Magazine's "Hot List" of top background screening providers for the past nine years – is accredited by the Professional Background Screening Association (PBSA) as recognized by the Background Screening Credentialing Council (BSCC), and SHRM as an accredited educational resource . Our advanced proprietary platform provides our customers with a set of employment screening, compliance, and risk management solutions, and a comprehensive set of tools that help them make better hiring decisions faster. These distinctions have consistently made GHRR a better alternative for their customers providing better data intelligence, better technology, better teams.
Our powerful, scalable solutions are designed to work for you, grow with you, and make your job a whole lot easier.
Flexible and intuitive web and mobile-enabled platforms
Performance: 99+% technology uptime
Scalable, sustainable infrastructure
Dedicated project management teams for quick and seamless integration
Ideal for companies that do more than 100 hires per month
The Key Benefits
Workflows
Better workflows, report grading, report management, compliance, and more
Compliance
Platform automation and superior business intelligence for peace of mind.
Smart Forms & Smart Automation
Using geolocation and data pre-population for a simpler, more intelligent candidate experience.
Candidate Experience
A more intelligent screening process that minimizes the burden of data entry and ensures consistency and efficiency.
Category:
Background Checks
Drug Screening
Add Power to Your Platform
Certified integrations add power to an already robust system. These customizable modifications can help you streamline workflows, improve communication and bolster data security and management – all within the original architecture of your system.
Best-Fit Integrations
We carefully hand-pick the best integrations to maximize the efficiency of your business. All steps in your workflows are considered; always with the goal of maximizing productivity and the return of your software investment.
Learn More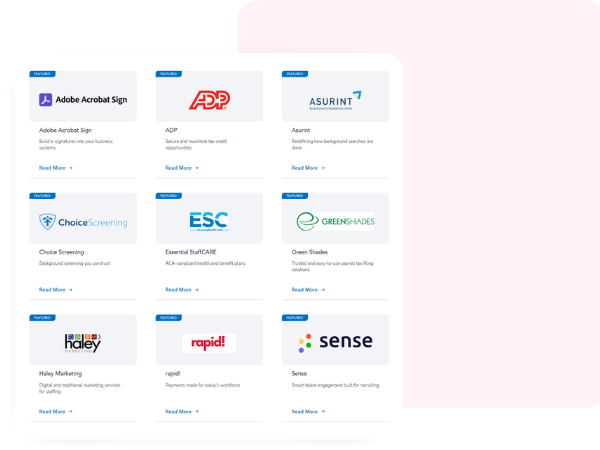 Enhance the Experience
A robust catalog of third-party staffing integrations allow for expanded, more appropriate functionality which translates into a more user-friendly interface – and an overall better user experience for talent, staff and customers.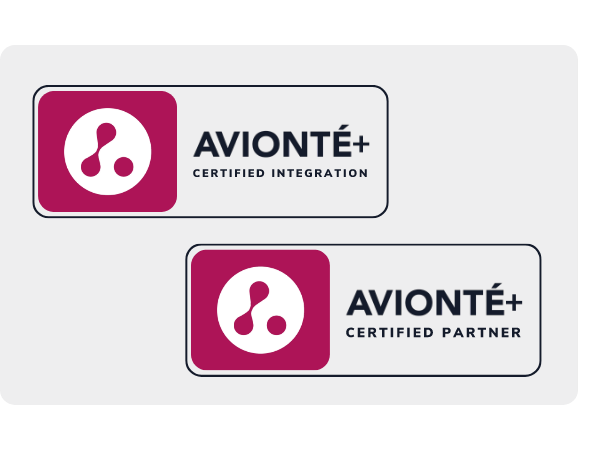 Avionté+ Integrations
When evaluating a technology provider to integrate with your ATS, look for an Avionté+ Certified Integration or Avionté+ Certified Partner badge on their website to feel confident that you are selecting a vendor that has been vetted by our team — and can be trusted by yours. Partner with Avionté+
Have a best-in-breed staffing or recruiting technology? Looking to increase your reach and grow your business? Apply to be a Certified Avionté+ Partner today.
Avionté+ Certified Integration Program
Avionté+ Certified Integration Program is your opportunity to use the Avionté Open API and create an integration to your solution.