One Place for All Things Talent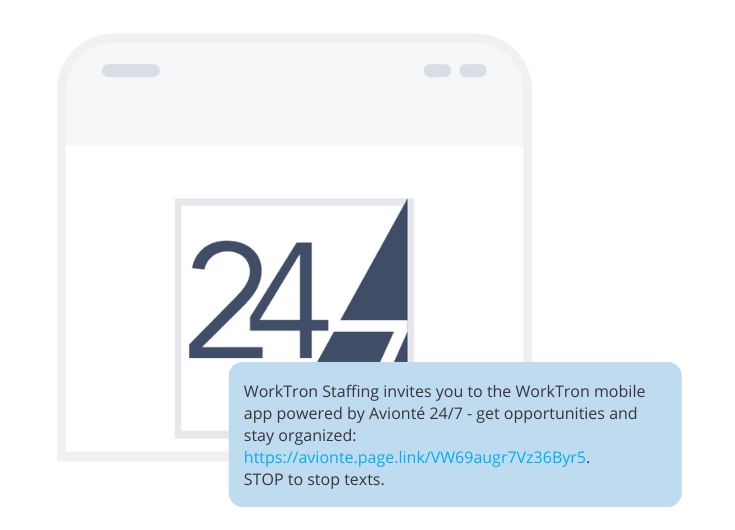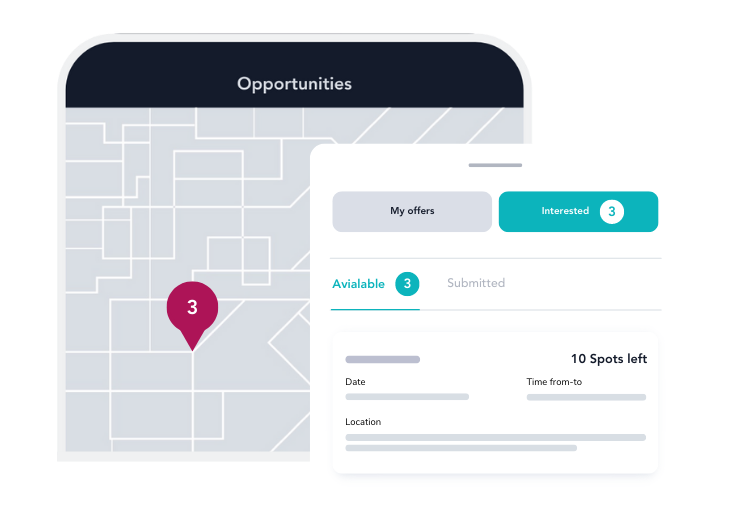 Talent Empowered
Ease of use and an intuitive interface encourages talent to download and use the mobile app.
SmartLink allows users to quickly and securely download the app via text or email. Once downloaded, talent will automatically be logged in.
Decrease transaction times and automate repetitive process with custom-tailored onboarding workflows designed to engage and empower talent in-app or online.
Recruiters can pre-configure, save, and initiate automated onboarding workflows that allow candidates to answer questions, complete forms, sign documents, and submit pictures of critical identification – all from their smartphones.
Algorithmic Distribution of Jobs
Reach talent in seconds and fill jobs in minutes by incorporating algorithmic matching technology that instantly identifies and alerts best-match candidates of new job opportunities.
Sequentially distribute and alert talent of new job opportunities that are right for them.
Scheduling & Workforce Management
Increase show-up and redeployment rates by putting control in the hands of your talent. With Avionté 24/7, they can manage their schedule in real-time, and review job details and requirements.
Drive accountability by allowing talent to express interest, accept an offer, track time, and manage their schedule directly from the mobile app.
Build trust and long-term loyalty with talent by providing mobile access to payday information the moment it's processed. Avionté 24/7 helps make the process easy, accurate, and transparent.
Talent can track everything from their regular paychecks to year-end tax forms directly from their mobile device.
Notifications, Alerts, & Messaging
Automate repetitive tasks with AI-enhanced messaging and talent engagement so recruiters can focus on higher value initiatives such as building and nurturing relationships with talent.
Engage talent in real time with automated notifications, alerts, and messaging tailored to their status, lifecycle stage, location, and more.
Recruit new talent with a custom-branded job board that allows them to find relevant work opportunities around their location and apply for open roles -directly from their mobile device.
Drive Profitability and Growth
Your Competitive Edge
Boost productivity, reduce operating costs, improve time to fill rates, and provide an exceptional experience for your team, your talent, and your clients. You can do it all with Avionté's staffing mobile app.
A Smarter Way to Staff
Fill jobs faster, retain and redeploy your best talent, lower your job board costs, and deliver better results for your customers.
The One and Only Fully Integrated Staffing Platform
For competitive advantage and long term success

Staffing
Staffing gets scalable technology, automated end-to-end workflows, and powerful Business Intelligence Tools.

Talent
Talent has a convenient, user-friendly mobile app that empowers them at every step of the work experience.
Employer
Employer prefers to work with staffing agencies that deploy cutting edge technology to recruit and retain loyal talent. Key benefits include faster time to fill, more reliable talent, and traceability from initial sale to final invoice. Find Out Why Staffing Industry Leaders Choose Avionté