Integrations & APIs for a First-Class Experience
Avionté carefully selects partners with best-of-breed technology in staffing and recruiting to build a tech stack that meets your specific needs. For added functionality, Avionté's APIs offer a proven means of customizing and expanding your system.
Provider
Able (formerly EmployStream)
Location
2515 Jay Avenue, Suite 101,
Cleveland, Ohio 44113
Integration Overview
Able (formerly EmployStream) offers a fully featured onboarding automation platform to help staffing firms ensure all candidates have a world-class onboarding experience. The company's cloud-based, mobile-first platform makes qualifying, hiring, and engaging candidates easy for everyone involved. Able can automate even the most complex of hiring workflows, so staffing firms can hire up to 90 percent faster at half the cost.
The Key Benefits
Automated Onboarding
Automate the processes that stand in the way of getting candidates to work with configurable onboarding workflows, automated tasks reminders, and straightforward form management to meet your compliance needs.
Real-Time Candidate Data
State and federal tax information, direct deposit information, along with other key data and documents are mapped back to Avionté in real-time, keeping candidate records up-to-date.
One System of Record
Avionté remains your source of data truth, mitigating human error and inefficiency of multiple system maintenance.
Mobile-First Experience
Candidates can seamlessly onboard on the go through Able's mobile-friendly candidate UI, designed to offer a native experience on any device.
Category:
Onboarding & Assessments
Workforce Management
Add Power to Your Platform
Certified integrations add power to an already robust system. These customizable modifications can help you streamline workflows, improve communication and bolster data security and management – all within the original architecture of your system.
Best-Fit Integrations
We carefully hand-pick the best integrations to maximize the efficiency of your business. All steps in your workflows are considered; always with the goal of maximizing productivity and the return of your software investment.
Learn More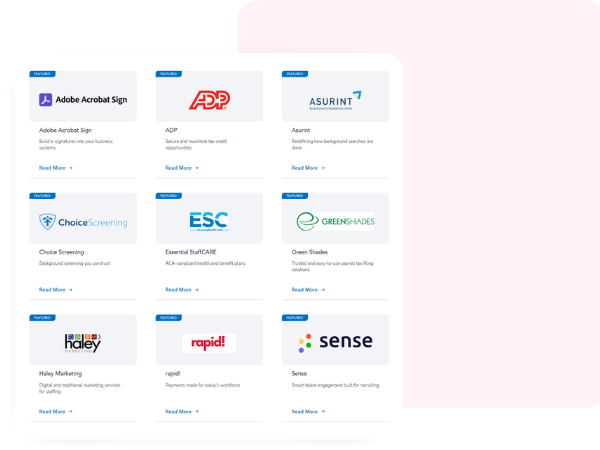 Enhance the Experience
A robust catalog of third-party staffing integrations allow for expanded, more appropriate functionality which translates into a more user-friendly interface – and an overall better user experience for talent, staff and customers.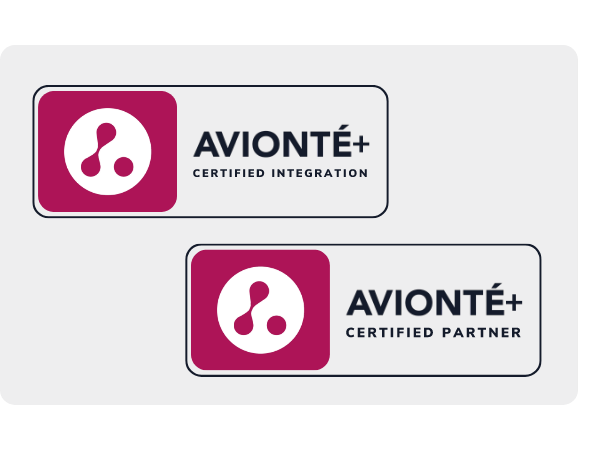 Avionté+ Integrations
When evaluating a technology provider to integrate with your ATS, look for an Avionté+ Certified Integration or Avionté+ Certified Partner badge on their website to feel confident that you are selecting a vendor that has been vetted by our team — and can be trusted by yours. Partner with Avionté+
Have a best-in-breed staffing or recruiting technology? Looking to increase your reach and grow your business? Apply to be a Certified Avionté+ Partner today.
Avionté+ Certified Integration Program
Avionté+ Certified Integration Program is your opportunity to use the Avionté Open API and create an integration to your solution.