Integrations & APIs for a First-Class Experience
Avionté carefully selects partners with best-of-breed technology in staffing and recruiting to build a tech stack that meets your specific needs. For added functionality, Avionté's APIs offer a proven means of customizing and expanding your system.
Crimcheck
Our Staffing Solutions. Your Safe Hiring Advantage.
Request a Demo
Location
150 Pearl Road
Brunswick, OH 44212
Integration Overview
Crimcheck's solutions and award-winning service will give you a Safe Hiring Advantage. Crimcheck's integrated employment background screening solutions will improve your team's efficiency, enhance your candidate experience and accelerate time to hire.

Shared clients can order background checks, track status and view completed reports without leaving AvionteBOLD and candidates can securely provide information and electronically sign authorizations via its mobile-friendly solutions.

Crimcheck is committed to protecting clients' employees, customers, assets and brands by providing comprehensive, accurate and compliant employment screening solutions focused on the staffing industry.
The Key Benefits
Exceptional U.S. Based Customer Care
Crimcheck prides itself on building longstanding client relationships. Clients speak with their customer service representative every time every time they call because it does not have a call center. Crimcheck's 100% U.S. based customer service team maintains extended hours from 8am to 8pm EST, Monday through Friday plus weekend hours.
PBSA Accredited
Crimcheck is PBSA Accredited, one of only 10% of association members. Its FCRA certified staff members, proprietary processes, and vendor management help ensure report accuracy and compliance with federal, state, local and industry-specific requirements.
Enhanced Candidate Experience
Crimcheck ensures your positive candidate experience extends to the background screening process through its intuitive, mobile-friendly user interface where candidates can complete their information and electronically sign an online authorization form. FCRA Summary of Rights, Disclosure and Authorization, and any required state-specific documents are provided electronically.
Innovative Technology
Crimcheck's proprietary technology platform enables it to offer customized solutions that streamline the screening process and improve the candidate experience. Crimcheck's paperless, automated workflow helps ensure clients' compliance with FCRA Disclosure and Authorization, Adverse Action and relevant state, local and industry-specific requirements.
Category:
Background Checks
Drug Screening
Add Power to Your Platform
Certified integrations add power to an already robust system. These customizable modifications can help you streamline workflows, improve communication and bolster data security and management – all within the original architecture of your system.
Best-Fit Integrations
We carefully hand-pick the best integrations to maximize the efficiency of your business. All steps in your workflows are considered; always with the goal of maximizing productivity and the return of your software investment.
Learn More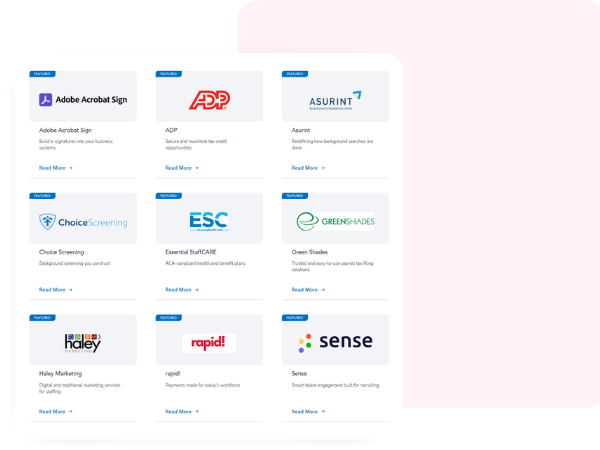 Enhance the Experience
A robust catalog of third-party staffing integrations allow for expanded, more appropriate functionality which translates into a more user-friendly interface – and an overall better user experience for talent, staff and customers.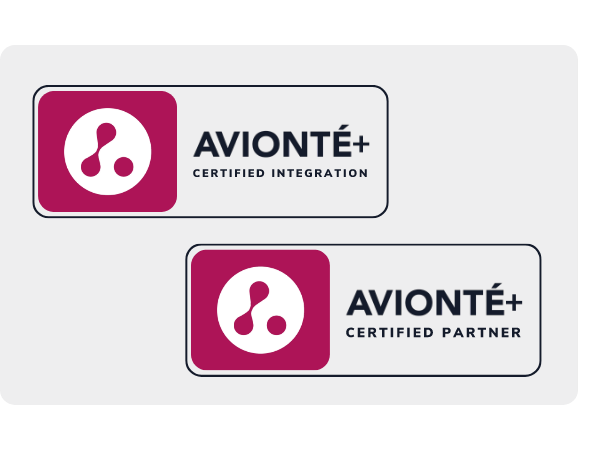 Avionté+ Integrations
When evaluating a technology provider to integrate with your ATS, look for an Avionté+ Certified Integration or Avionté+ Certified Partner badge on their website to feel confident that you are selecting a vendor that has been vetted by our team — and can be trusted by yours. Partner with Avionté+
Have a best-in-breed staffing or recruiting technology? Looking to increase your reach and grow your business? Apply to be a Certified Avionté+ Partner today.
Avionté+ Certified Integration Program
Avionté+ Certified Integration Program is your opportunity to use the Avionté Open API and create an integration to your solution.