Integrations & APIs for a First-Class Experience
Avionté carefully selects partners with best-of-breed technology in staffing and recruiting to build a tech stack that meets your specific needs. For added functionality, Avionté's APIs offer a proven means of customizing and expanding your system.
Location
11811 N. Tatum Blvd., Suite 3031
Phoenix, AZ 85028
Integration Overview
AccuSourceHR is a full-service employment background screening organization. They continuously seek and promote a balance between offering the latest in technology resources and providing direct, consistent, supportive client care. This objective is reinforced by the belief every client is unique and deserves a customized program of quality, on-target drug and background screening solutions to meet their specific organizational goals. AccuSourceHR strives to ensure every client is confident in their support and views them as an extension of their organization's human resources, security, and risk mitigation teams.
The Key Benefits
World Class Customer Service
Our Customer Satisfaction Survey (CSAT) consistently averages over 95% each month, placing us in the World Class category of Customer Satisfaction.
Fast Turnaround Times
We understand time to hire is critical for both our clients and their candidates. We strive to return clear county criminal searches in 24 hours or less.
Quality Assurance
Every report delivered by AccuSourceHR is reviewed by our Quality Assurance Team to ensure accuracy and legal compliance with state, federal and local regulations.
Dedicated Account Management
Our US-based Account Management and Customer Success Teams are available and ready to assist with everything from end-user questions to executive needs and provide prompt response to each request. AccuSourceHR maintains a daily average of 95% of calls answered live.
Category:
Background Checks
Drug Screening
Add Power to Your Platform
Certified integrations add power to an already robust system. These customizable modifications can help you streamline workflows, improve communication and bolster data security and management – all within the original architecture of your system.
Best-Fit Integrations
We carefully hand-pick the best integrations to maximize the efficiency of your business. All steps in your workflows are considered; always with the goal of maximizing productivity and the return of your software investment.
Learn More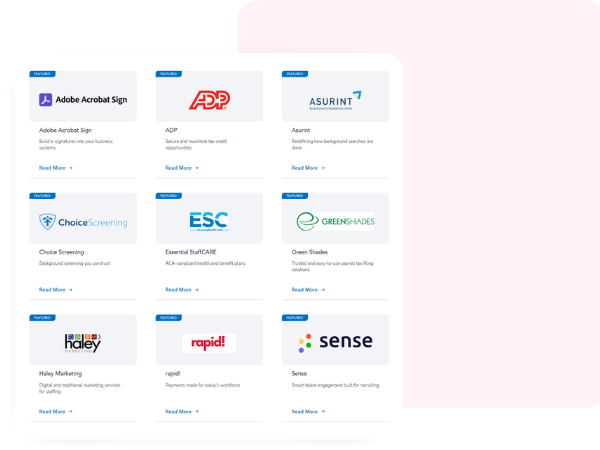 Enhance the Experience
A robust catalog of third-party staffing integrations allow for expanded, more appropriate functionality which translates into a more user-friendly interface – and an overall better user experience for talent, staff and customers.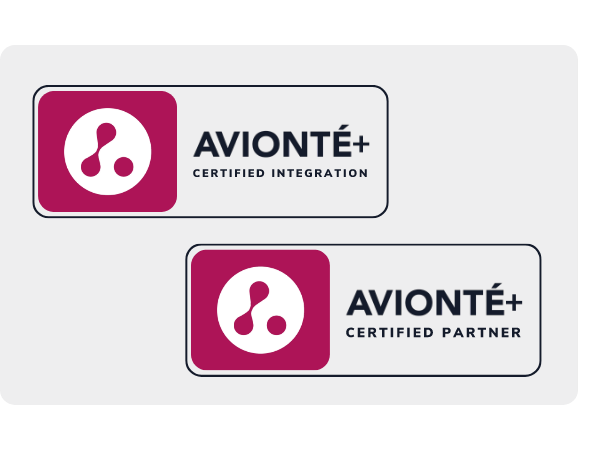 Avionté+ Integrations
When evaluating a technology provider to integrate with your ATS, look for an Avionté+ Certified Integration or Avionté+ Certified Partner badge on their website to feel confident that you are selecting a vendor that has been vetted by our team — and can be trusted by yours. Partner with Avionté+
Have a best-in-breed staffing or recruiting technology? Looking to increase your reach and grow your business? Apply to be a Certified Avionté+ Partner today.
Avionté+ Certified Integration Program
Avionté+ Certified Integration Program is your opportunity to use the Avionté Open API and create an integration to your solution.