Integrations & APIs for a First-Class Experience
Avionté carefully selects partners with best-of-breed technology in staffing and recruiting to build a tech stack that meets your specific needs. For added functionality, Avionté's APIs offer a proven means of customizing and expanding your system.
Integration Overview
Thousands of staffing industry professionals use Great Recruiters to automatically capture reviews, testimonials, and referrals in real-time. Great Recruiters seamlessly integrates into Avionte, automates the review process, and makes it simple to measure, act-on, and promote real-time feedback and testimonials. Staffing Firms that use the platform also get a comprehensive dashboard that measures the individual recruiter performance, but also the performance of the entire organization allowing leadership to regain control of the experiences their agency creates. Don't tell people how great you are. Prove it.
The Key Benefits
Automate real-time feedback. Measure performance and take quick action.
Don't wait until the end of the year to know how your team is doing. Find out exactly what your candidates and client s think of you in real-time. Great Recruiters automatically sends review requests based on note, Submissions and placements so that you don't ever have to worry about spending time getting feedback from your candidates and clients. The automated review process captures real-time feedback and helps you measure your team's performance and take immediate action when problems arise. With Great Recruiters, you gain insight into how recruiters and sales teams are performing.
Promote positive candidate reviews as they flood in.
Don't tell people how great you are. Prove it. Share real-time positive ratings, reviews and testimonials from candidates. SEO-optimized GR Company & Recruiter Profiles showcase what candidates think about working with you. Your profiles will demonstrate your commitment to providing best-in-class candidate experiences and to continually improving your recruiting team.GR makes it easy to do even more with your positive review. When a review comes in, GR will automatically generate a "Testimonial Card." Testimonial Cards are easily shared on LinkedIn, Facebook, and Twitter. Recruiters share their own best reviews, and managers share and spotlight their team's best reviews. This kind of promotion strategy will truly differentiate your recruiters in a crowded marketplace.
Improve your reviews and ratings on third-party sites.
Let your candidates sing your praises for you – even beyond the Great Recruiters platform. When a candidate leaves a positive review, Great Recruiters will automatically follow up with them to encourage them to share their review on other platforms of your choice. Take your pick: Google, Facebook, Yelp, Glassdoor. Get a GR boost.
Increase your referrals.
The number one reason you don't get referrals is—you forget to ask. We take care of the asking for you. Candidates refer their friends to people they trust. Candidates who give you rave reviews on Great Recruiters are a natural source for high-quality referrals. Don't leave your referrals to chance. Source them from the candidates who trust you.
Category:
Referral Program
Reputation Management
Add Power to Your Platform
Certified integrations add power to an already robust system. These customizable modifications can help you streamline workflows, improve communication and bolster data security and management – all within the original architecture of your system.
Best-Fit Integrations
We carefully hand-pick the best integrations to maximize the efficiency of your business. All steps in your workflows are considered; always with the goal of maximizing productivity and the return of your software investment.
Learn More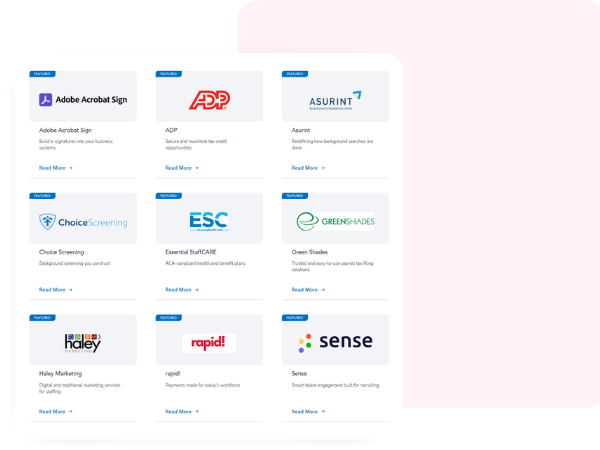 Enhance the Experience
A robust catalog of third-party staffing integrations allow for expanded, more appropriate functionality which translates into a more user-friendly interface – and an overall better user experience for talent, staff and customers.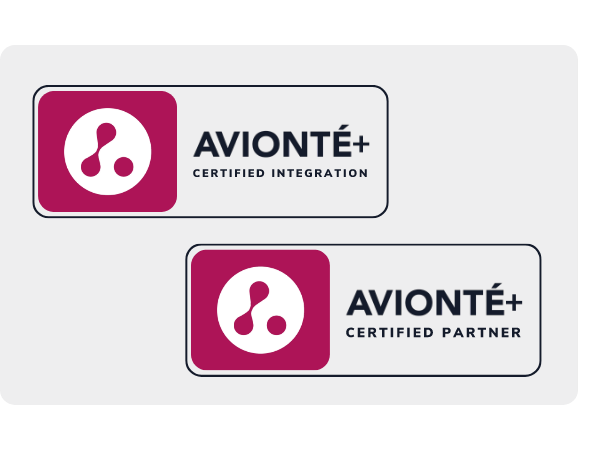 Avionté+ Integrations
When evaluating a technology provider to integrate with your ATS, look for an Avionté+ Certified Integration or Avionté+ Certified Partner badge on their website to feel confident that you are selecting a vendor that has been vetted by our team — and can be trusted by yours. Partner with Avionté+
Have a best-in-breed staffing or recruiting technology? Looking to increase your reach and grow your business? Apply to be a Certified Avionté+ Partner today.
Avionté+ Certified Integration Program
Avionté+ Certified Integration Program is your opportunity to use the Avionté Open API and create an integration to your solution.