Integrations & APIs for a First-Class Experience
Avionté carefully selects partners with best-of-breed technology in staffing and recruiting to build a tech stack that meets your specific needs. For added functionality, Avionté's APIs offer a proven means of customizing and expanding your system.
Haley Marketing
Digital and traditional marketing services for staffing
Request a Demo
Location
PO Box 410
Williamsville, NY 14231
Integration Overview
Haley Marketing provides digital and traditional marketing services to the staffing industry. We also offer SaaS solutions, including the following applications: Career Portal, Talent Showcase (skill marketing via web pages), and NetSocial (team-based social sharing). For the purposes of an Avionte integration, we are looking to integrate our Career Portal technology with the ATS.
The Key Benefits
Each job is optimized for search engines on company URL
Matches the look of company website
Jobs optimized for Google for Jobs and Google Jobs API integration
Keyword, job category and proximity-based searching
Short and long application forms with resume submission
One-click apply options (Indeed, Monster and social sign ins)
Save inactive jobs for fast re-posting with our job posting software
Automatic distribution of jobs to more than a dozen job aggregators
RSS and XML feed of jobs to post to social media
Feature Hot Jobs throughout client website (with website widget plug-in)
On demand and scheduled "Hot Jobs" talent re-engagement via email
Mobile optimized search and apply
Built-in social sharing
Intelligent job alerts when new jobs are posted
Recruiter profiles associated with each job
Category:
Featured
Marketing
Add Power to Your Platform
Certified integrations add power to an already robust system. These customizable modifications can help you streamline workflows, improve communication and bolster data security and management – all within the original architecture of your system.
Best-Fit Integrations
We carefully hand-pick the best integrations to maximize the efficiency of your business. All steps in your workflows are considered; always with the goal of maximizing productivity and the return of your software investment.
Learn More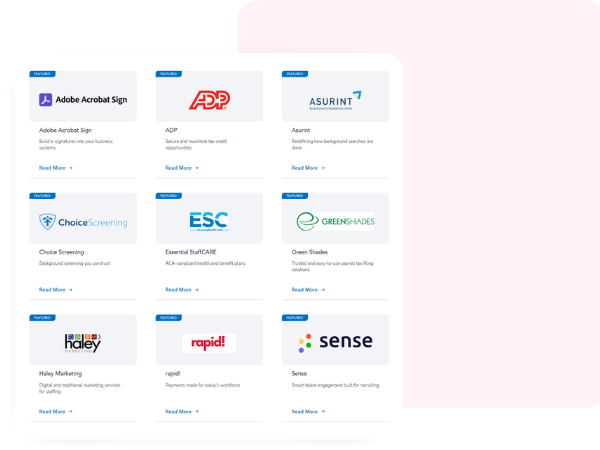 Enhance the Experience
A robust catalog of third-party staffing integrations allow for expanded, more appropriate functionality which translates into a more user-friendly interface – and an overall better user experience for talent, staff and customers.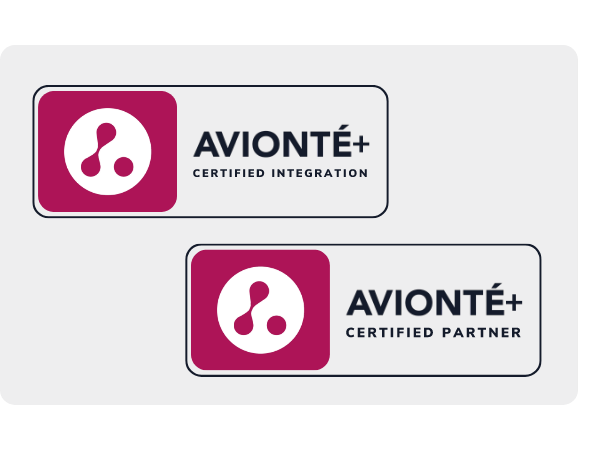 Avionté+ Integrations
When evaluating a technology provider to integrate with your ATS, look for an Avionté+ Certified Integration or Avionté+ Certified Partner badge on their website to feel confident that you are selecting a vendor that has been vetted by our team — and can be trusted by yours. Partner with Avionté+
Have a best-in-breed staffing or recruiting technology? Looking to increase your reach and grow your business? Apply to be a Certified Avionté+ Partner today.
Avionté+ Certified Integration Program
Avionté+ Certified Integration Program is your opportunity to use the Avionté Open API and create an integration to your solution.