Integrations & APIs for a First-Class Experience
Avionté carefully selects partners with best-of-breed technology in staffing and recruiting to build a tech stack that meets your specific needs. For added functionality, Avionté's APIs offer a proven means of customizing and expanding your system.
Location
2480 Walker Ave NW
Grand Rapids, MI 49544
Integration Overview
Nelco is the authorized provider of Avionté compatible W-2, 1099, and check writing supplies. In addition to providing forms, checks and envelopes, Nelco offers a completely paperless 1095 electronic filing solution for Avionté – to help ease the process for staffing industry professionals looking to gain back time and ease.
The Key Benefits
Completely paperless filing
Through Avionte, Nelco's tool allows you to file directly to government agencies, states, as well as deliver recipient copies (Nelco can print and mail them for you).
File Importing
It's easy to import files from Avionte allowing you to spend less time navigating websites and stuffing envelopes.
Guaranteed compatible forms
Your filing process will be smooth with forms that always work with Avionte.
Time savings
We simplify the process of year-end filing for you and help you meet all your filing requirements.
Simplicity
One easy login – No need to maintain separate logins for every government or state agency. Filing done in a few clicks!
Add Power to Your Platform
Certified integrations add power to an already robust system. These customizable modifications can help you streamline workflows, improve communication and bolster data security and management – all within the original architecture of your system.
Best-Fit Integrations
We carefully hand-pick the best integrations to maximize the efficiency of your business. All steps in your workflows are considered; always with the goal of maximizing productivity and the return of your software investment.
Learn More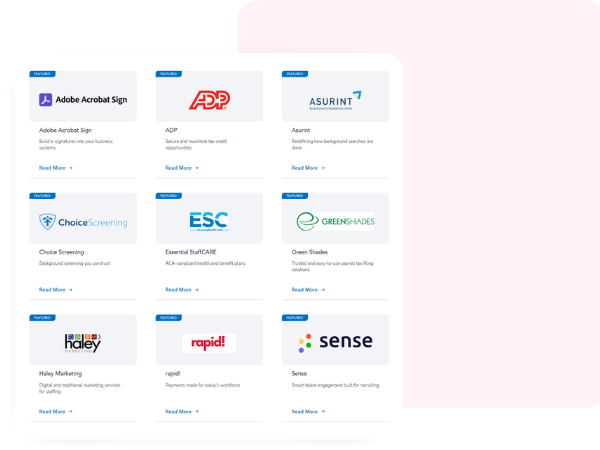 Enhance the Experience
A robust catalog of third-party staffing integrations allow for expanded, more appropriate functionality which translates into a more user-friendly interface – and an overall better user experience for talent, staff and customers.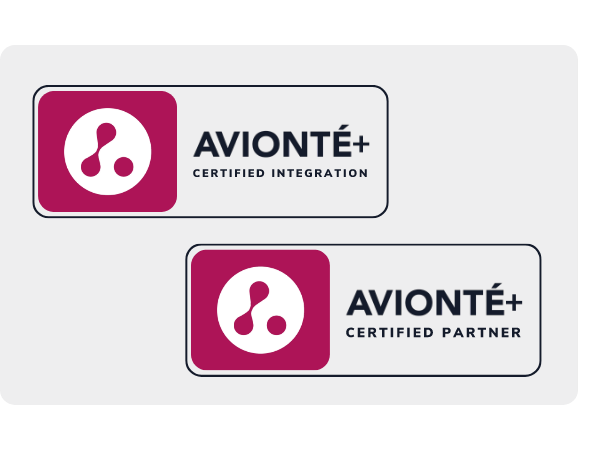 Avionté+ Integrations
When evaluating a technology provider to integrate with your ATS, look for an Avionté+ Certified Integration or Avionté+ Certified Partner badge on their website to feel confident that you are selecting a vendor that has been vetted by our team — and can be trusted by yours. Partner with Avionté+
Have a best-in-breed staffing or recruiting technology? Looking to increase your reach and grow your business? Apply to be a Certified Avionté+ Partner today.
Avionté+ Certified Integration Program
Avionté+ Certified Integration Program is your opportunity to use the Avionté Open API and create an integration to your solution.