Integrations & APIs for a First-Class Experience
Avionté carefully selects partners with best-of-breed technology in staffing and recruiting to build a tech stack that meets your specific needs. For added functionality, Avionté's APIs offer a proven means of customizing and expanding your system.
Adobe Acrobat Sign
Trusted, legally binding e-signature solution
Request a Demo
Integration Overview
Welcome to a whole new document experience. With Adobe Document Cloud – which includes the world's leading PDF and electronic signature solutions – you can turn manual document processes into digital ones. Now your team can take quick action on documents, workflows, and tasks – across multiple screens and devices – anywhere, any time, and inside your favorite enterprise apps
Automate business processes, start to finish, with Adobe Acrobat Sign, an Adobe Document Cloud solution. It includes a powerful workflow engine that helps you keep documents moving — from your phone, on the web, or in your favorite application. Whether you need to send, sign, track, or archive, rest assured that Adobe Acrobat Sign delivers the highest levels of security and compliance. It includes certified document delivery so you can be certain when your documents and forms are received.
The Key Benefits
Supercharge your PDF Experience.
Connect to your PDFs from anywhere and share them with anyone. With Acrobat Pro DC, you can review a report on your phone, edit a proposal on your tablet, and add comments to a presentation.
Smooth Signing Ahead.
When Acrobat Sign drives all-digital signature workflows, it's fast and easy for anyone to create, route, and get agreements legally signed. Businesses can streamline new-hire onboarding. Individuals can get applications approved in a snap. And everyone can finish multi-step processes faster than ever.
Worry-free Workflow.
Businesses large and small use Adobe Document Cloud to keep work flowing smoothly and securely. Thanks to pre-built integrations like Avionté, you can access our trusted solution inside the apps you're already using. Work with confidence knowing that your PDFs are safe and sound — no matter what device you're on.
Intelligence everywhere with Adobe Sensei.
Adobe Sensei is the AI and machine learning framework in Adobe Experience Platform. Adobe Sensei helps you handle time-consuming and repetitive tasks, identify what you need in seconds instead of hours, and deliver personalized experiences in real time.
Category:
Featured
Workforce Management
Add Power to Your Platform
Certified integrations add power to an already robust system. These customizable modifications can help you streamline workflows, improve communication and bolster data security and management – all within the original architecture of your system.
Best-Fit Integrations
We carefully hand-pick the best integrations to maximize the efficiency of your business. All steps in your workflows are considered; always with the goal of maximizing productivity and the return of your software investment.
Learn More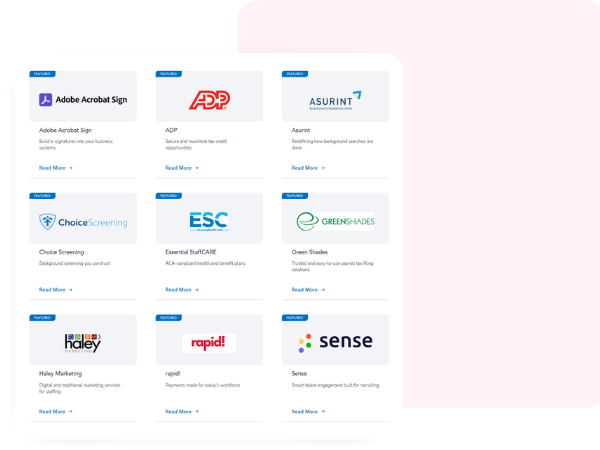 Enhance the Experience
A robust catalog of third-party staffing integrations allow for expanded, more appropriate functionality which translates into a more user-friendly interface – and an overall better user experience for talent, staff and customers.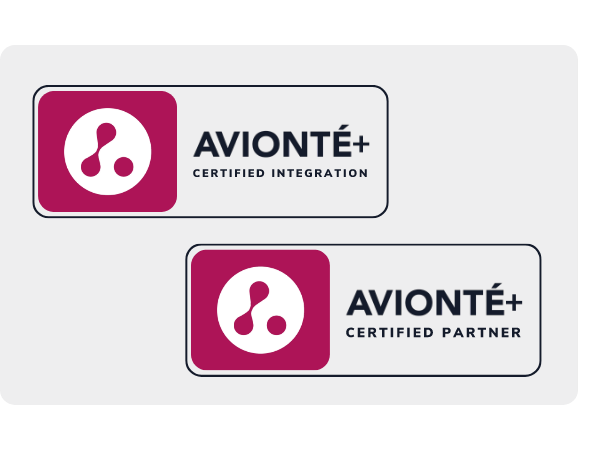 Avionté+ Integrations
When evaluating a technology provider to integrate with your ATS, look for an Avionté+ Certified Integration or Avionté+ Certified Partner badge on their website to feel confident that you are selecting a vendor that has been vetted by our team — and can be trusted by yours. Partner with Avionté+
Have a best-in-breed staffing or recruiting technology? Looking to increase your reach and grow your business? Apply to be a Certified Avionté+ Partner today.
Avionté+ Certified Integration Program
Avionté+ Certified Integration Program is your opportunity to use the Avionté Open API and create an integration to your solution.