Integrations & APIs for a First-Class Experience
Avionté carefully selects partners with best-of-breed technology in staffing and recruiting to build a tech stack that meets your specific needs. For added functionality, Avionté's APIs offer a proven means of customizing and expanding your system.
Staffing Referrals
Automated Referral Management (ARM) Software
Request a Demo
Location
1624 Market St Ste 226, PMB 22698,
Denver, Colorado 80202
Integration Overview
Staffing Referrals helps your team source, engage, and place qualified candidates faster with the industry's leading automated referral management (ARM) platform. Use Staffing Referrals to activate passive talent that your competition can't reach.
The Key Benefits
Automatically promote your referral program
Turn your talent pool into referral-generating machines with referral automation. Staffing Referrals provides 30+ email templates that are proven to generate referrals on day one.
Get up to 2x more referrals by making your referral program digital
Easily capture and track referral leads with personalized brand ambassador dashboards and simple social sharing tools for your entire talent network.
Qualify talent faster with recruiting automation
Save recruiters time with our automated qualification process. Use configurable forms and email outreach to ensure your recruiters only spend time talking to the right leads.
Improve the candidate experience
Create transparency in your referral process with brand ambassador dashboards
Category:
Referral Program
Add Power to Your Platform
Certified integrations add power to an already robust system. These customizable modifications can help you streamline workflows, improve communication and bolster data security and management – all within the original architecture of your system.
Best-Fit Integrations
We carefully hand-pick the best integrations to maximize the efficiency of your business. All steps in your workflows are considered; always with the goal of maximizing productivity and the return of your software investment.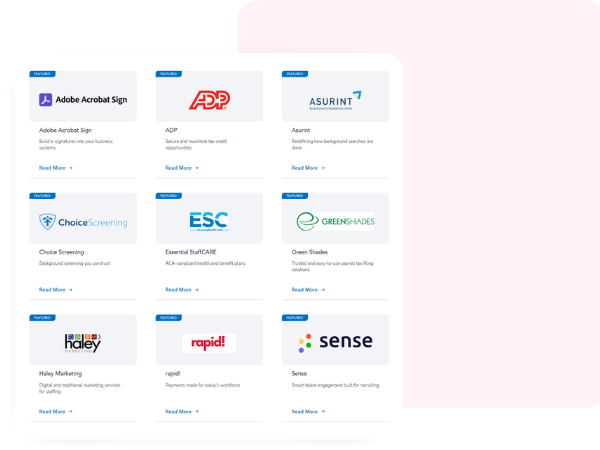 Enhance the Experience
A robust catalog of tools and integrations allow for expanded, more appropriate functionality which translates into a more user-friendly interface – and an overall better user experience for talent, staff and customers. Partner with Avionté+
Have a best-in-breed staffing or recruiting technology? Looking to increase your reach and grow your business? Apply to be a Certified Avionté+ Partner today.
Avionté+ Certified Integration Program
Avionté+ Certified Integration Program is your opportunity to use the Avionté Open API and create an integration to your solution.