Integrations & APIs for a First-Class Experience
Avionté carefully selects partners with best-of-breed technology in staffing and recruiting to build a tech stack that meets your specific needs. For added functionality, Avionté's APIs offer a proven means of customizing and expanding your system.
Synergi Partners
Tax credit and incentive consulting for staffing
Request a Demo
Integration Overview
Comprised of tax credit veterans with 40 years of experience serving clients of all sizes and in virtually all industries, Synergi Partners specializes exclusively in helping employers take advantage of federal and state tax credit programs, as well as disaster relief incentives. With an executive team made up of thought leaders who have made significant contributions to the incentives industry, Synergi Partners' main goal is to provide the best service available to achieve maximum value for its clients.
Synergi Partners has teamed up with Avionté to help employers take advantage of economic relief incentives for businesses impacted by COVID-19. Through the CARES Act, employers can receive refundable Federal tax credits such as Employee Retention Credit, a refundable payroll tax credit.
The Key Benefits
Save time and earn more
Quickly identify your tax credit opportunities through proprietary technology that maximizes tax credit recovery opportunities and incentives.
Work with a focused and experienced team
Synergi's only focus is on processing tax credits, and their team understands the nuances of the staffing industry.
Stellar support
You can always count on friendly service from knowledgeable team members.
Risk free
Synergi Partners offer risk free consulting services and deliver audit ready packages, keeping employers in compliance.
CARES Act ERC ready
Through the CARES Act Employee Retention Credit (ERC), businesses impacted by COVID-19 can quickly infuse cash into their organization by utilizing the ERC – a refundable payroll tax credit worth up to $19,000 per employee.
Quality guaranteed
Synergi's relentless passion will ensure compliance, and their services are proven, defendable, and consistent.
Category:
Compliance
Tax Credits
WOTC
Add Power to Your Platform
Certified integrations add power to an already robust system. These customizable modifications can help you streamline workflows, improve communication and bolster data security and management – all within the original architecture of your system.
Best-Fit Integrations
We carefully hand-pick the best integrations to maximize the efficiency of your business. All steps in your workflows are considered; always with the goal of maximizing productivity and the return of your software investment.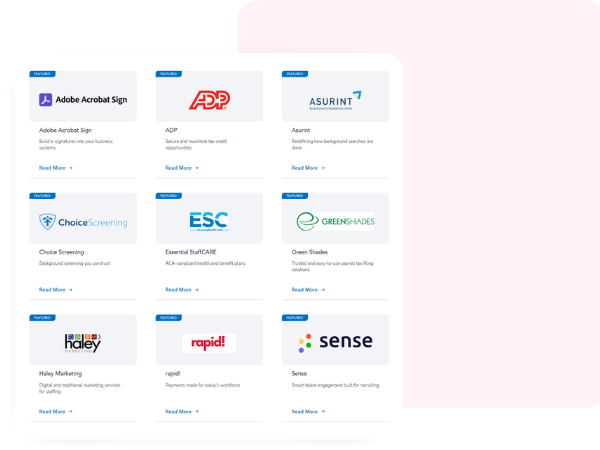 Enhance the Experience
A robust catalog of tools and integrations allow for expanded, more appropriate functionality which translates into a more user-friendly interface – and an overall better user experience for talent, staff and customers. Partner with Avionté+
Have a best-in-breed staffing or recruiting technology? Looking to increase your reach and grow your business? Apply to be a Certified Avionté+ Partner today.
Avionté+ Certified Integration Program
Avionté+ Certified Integration Program is your opportunity to use the Avionté Open API and create an integration to your solution.