Integrations & APIs for a First-Class Experience
Avionté carefully selects partners with best-of-breed technology in staffing and recruiting to build a tech stack that meets your specific needs. For added functionality, Avionté's APIs offer a proven means of customizing and expanding your system.
Text-Em-All
Change the way you engage with mass messaging
Request a Demo
Location
3803 Parkwood Blvd, Suite 900
Frisco, TX 75034
Integration Overview
Since 2005, Text-Em-All has been a leading provider of mass messaging services in the United States, Canada, and Puerto Rico. Text-Em-All also offers international messaging in some countries. Working with more than 1,000 staffing clients and 12 of the top 20 staffing firms, we understand the industry. Users can deliver last-minute job fills, important reminders, and alerts as both text messages and/or phone calls.
The Key Benefits
Personalization
Maximize your impact with personalized text templates that include custom fields like first name or interview date/time.
Large Contact Groups
At Text-Em-All, we don't limit the size of your contact groups. Whether it's a group of five or 500,000 – we'll get your message out quickly.
Conversations
Replies to a broadcast become private two-way conversations. You can also use conversations to reach individuals.
Amazing Results
Along with detailed reporting and text delivery receipts, you can get notified and quickly respond to any message replies online.
Category:
Talent Engagement
Text & Voice Messaging
Workforce Management
Add Power to Your Platform
Certified integrations add power to an already robust system. These customizable modifications can help you streamline workflows, improve communication and bolster data security and management – all within the original architecture of your system.
Best-Fit Integrations
We carefully hand-pick the best integrations to maximize the efficiency of your business. All steps in your workflows are considered; always with the goal of maximizing productivity and the return of your software investment.
Learn More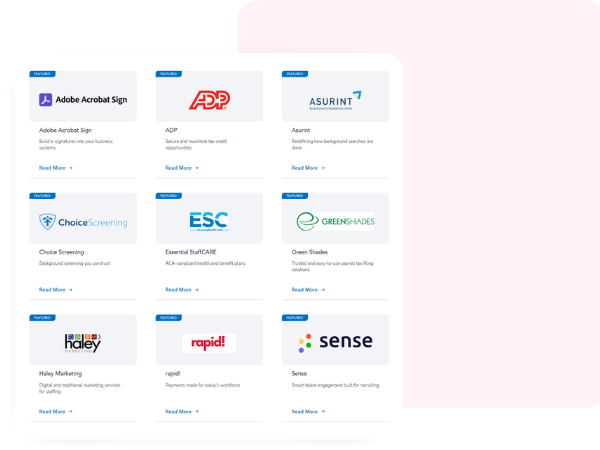 Enhance the Experience
A robust catalog of third-party staffing integrations allow for expanded, more appropriate functionality which translates into a more user-friendly interface – and an overall better user experience for talent, staff and customers.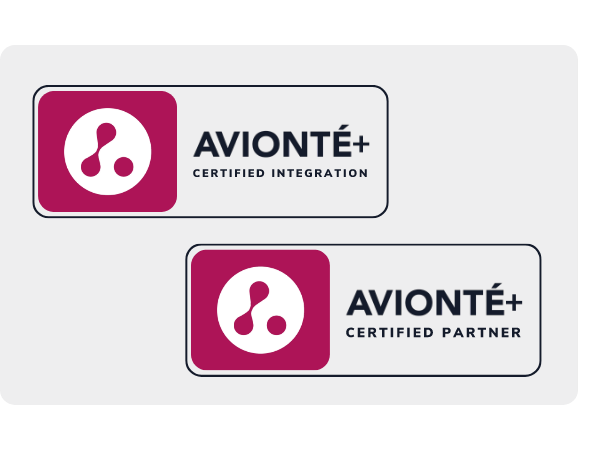 Avionté+ Integrations
When evaluating a technology provider to integrate with your ATS, look for an Avionté+ Certified Integration or Avionté+ Certified Partner badge on their website to feel confident that you are selecting a vendor that has been vetted by our team — and can be trusted by yours. Partner with Avionté+
Have a best-in-breed staffing or recruiting technology? Looking to increase your reach and grow your business? Apply to be a Certified Avionté+ Partner today.
Avionté+ Certified Integration Program
Avionté+ Certified Integration Program is your opportunity to use the Avionté Open API and create an integration to your solution.