COUNTING DOWN TO SUITE 17.1
The countdown is on! Suite 17.1 is set to release in May and we're beyond excited to finally bring you the fully mobile application and many other features needed to help keep you as efficient as possible!
We've been working hard to deliver what you've told us is key to your business. From a fully mobile application process to being able to configure up to five application workflows on your own, there are so many reasons to upgrade to Suite 17.1 once it's released. We're also excited about our continued progress on planned functionality for Suite 17.2 and the remaining releases of 2017. Want to learn more? Keep reading for 2017 Roadmap updates, more in-depth information on Suite 17.1 and the latest news from our Compliance team!
THE LOOKING GLASS
Avionté: The Past, Present and Future
At Avionté, the momentum is building and we are right on track for our first release of the year – Suite 17.1! We are also already diving into the details for Suite 17.2. With a focus on the "Day in the Life of a Recruiter," we will continue to release functionality that helps make recruiters more efficient – giving them more time to do what they're good at: Recruiting!
SUITE 17.1: OUR UPCOMING RELEASE
Release Scheduled for May 2017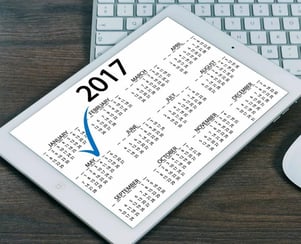 With Suite 17.1 coming out soon, we want to dive into a couple of new details and share why they are important:
Social Sharing of Job Postings
Did you know that 73% of 18 to 34 year olds found their last job through a social network? That's why we're so excited for the social sharing option coming with Suite 17.1! With one simple click, people will be able to share Job Postings via Facebook, Twitter and LinkedIn or send it to someone in an email or message.
If people share Job Postings on their social channels, you'll be getting more exposure on your Job Postings without extra work on your end!
Since many people are finding jobs through social networks, you'll be reaching talent where they are actively searching for jobs.
Not to mention – if someone finds your Job Posting through social media on a tablet or mobile device (nearly 80% of time spent on social media is done on a mobile device/tablet), they will be able to apply because of the fully mobile application process coming with Suite 17.1!
SEO-Friendly Job Posting URLs. With Suite 17.1, you will also be able to edit a portion of your Job Posting URL to ensure it's optimized for organic search. By giving you the flexibility to create SEO-friendly Job Posting URLs, you will be able to:
Easily increase traffic on your Job Postings
Attract the right audience, who is searching for and finding open positions on your Job Boards
Customize and change a portion of your URLs as needed
Can't wait for the Suite 17.1 release?! Then make sure you are one of the first to sign up to upgrade. If you are interested in upgrading as soon as it 17.1 is released,please contact your Client Manager!
COMPLIANCE CORNER
Compliance Round Up – 2017 So Far
E-Verify:Will E-Verify become mandatory? E-Verify has been voluntary for most employers since it was rolled out in 1996, however, recent developments suggest it may become mandatory. President Trump's 2018 budget proposes $15 million to the Department of Homeland Security to be used for the implementation of mandatory E-Verify.
In addition, Republican Senator Charles Grassley reintroduced legislation that would make the program mandatory for all employers within a year of the bill being enacted.
H1-B Visas:USCIS recently unveiled efforts to crack down on employers that misuse the H1-B Visa program. The H1-B visa program was designed to help companies recruit foreign nationals that are highly skilled if there is a shortage of qualified workers in the U.S. The goal of the new effort is to "help assist in the prosecution of program violators and ensure that American workers are not overlooked or replaced in the process."
ACA Update:Last month, we highlighted the Republican bill to repeal and replace ACA. Most of us have since heard that the AHCA bill failed to go to a vote on March 24, 2017. House Speaker Paul Ryan said, "Obamacare is the law of the land . . . for the foreseeable future." What does that mean for the future of ACA? What is next for Republicans looking to repeal ACA?
DID YOU KNOW?
How to Use the Aero Platform for Greater Success
We hope you enjoyed last month's use case. As we've said before, we believe the more use cases we share, the easier it will be for you to brainstorm and discover new ways to use Avionté in a way that will make your work life easier and more efficient!
That's why this month, our featured use case is focused on a sales user and how they can use the Recruiter Module to quickly and easily access Contact location information.
Avionté Updates Brought Straight to Your Inbox