Your recruiter has just remotely hired an employee who lives 30 miles away from the branch. The hire is specific to a job assignment that you need to fill immediately and must travel to a client's customer cross-town location. This employee needs money for gas, as well as funds to cover childcare expenses due at the end of the shift. Unfortunately, if your staffing agency is like most firms today, you can't accommodate talent's needs. Traditional payroll methods that rely on pay cards that must be picked up at a branch or mailed are not only burdensome but fail to offer the necessary flexibility to pay your employees in a quick and efficient manner.
And even if your staffing agency offers a pay card solution with an immediate pay function, you may still face delays setting up a pay account and delivering a pay card. Moreover, you're still subject to bank debit and credit time restrictions. The result? Your employee can't show up for the first day of work, and the client is calling you to complain.
Introducing CHANGE® – A Financial Services Solution Designed Specifically for The Staffing Industry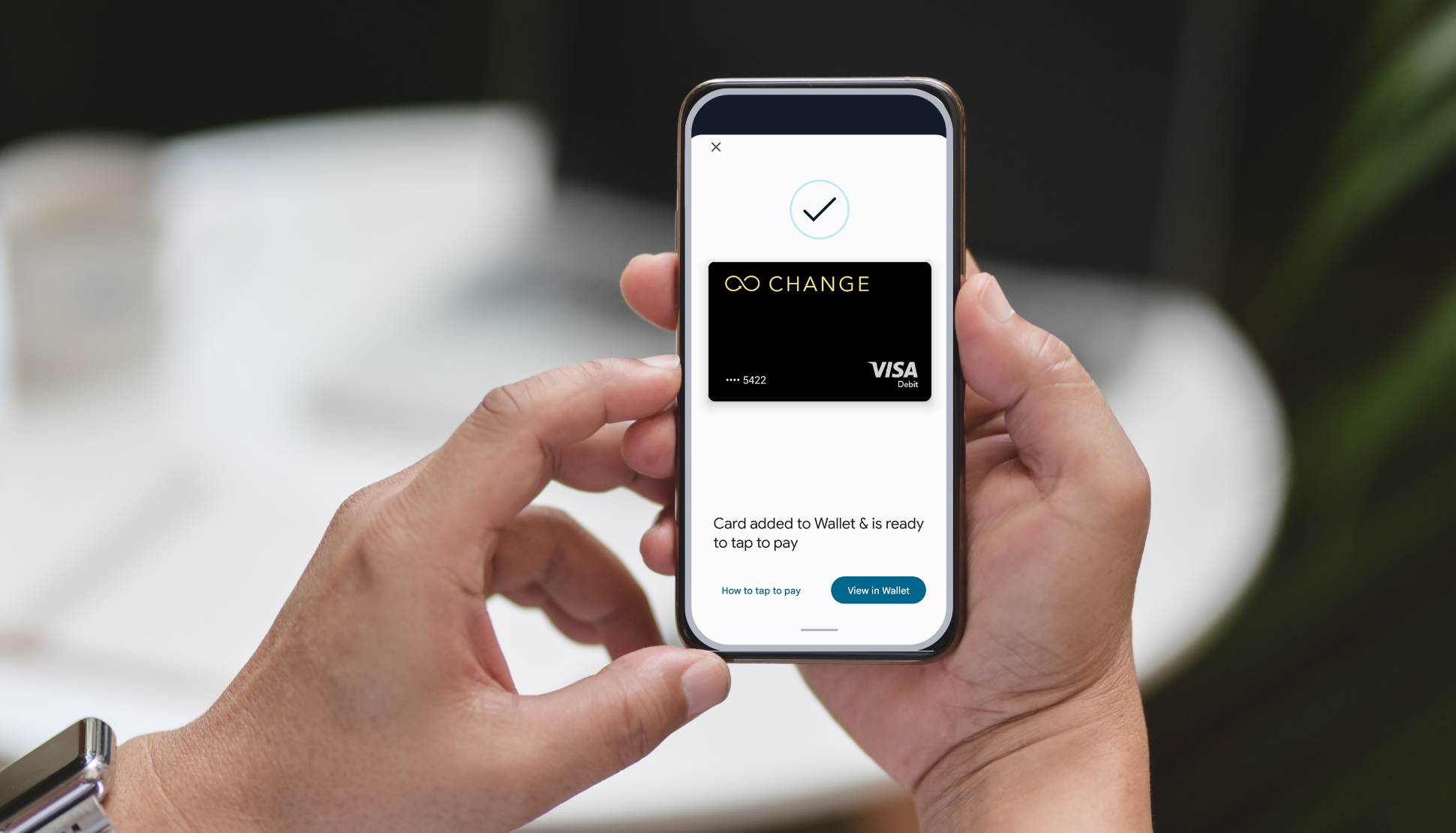 In partnership with Green Dot Bank, Member FDIC, we are proud to release CHANGE, a groundbreaking payment solution that offers talent a greater number of payroll options to get them compensated faster and easier, while also reducing back-office friction in the payroll process.
With a CHANGE account, employees receive financial services and are able to deposit funds from any employer as with a standard bank account. But what makes CHANGE truly cutting-edge in this market is the CHANGE Virtual card™, an end-to-end payroll integration coupled with "one-button provisioning". This allows a more streamlined user experience as clients and talent can register and activate a card account with just a click of a button. With CHANGE Virtual card, talent has an active mobile wallet account that can be used similar to any debit card immediately upon activation. Employees will also be mailed a personalized plastic card to their home 7 to 10 days following issuance of the CHANGE Virtual Card so they have access to both options for Visa purchases.
The Client can also choose to enact CHANGE Urgent Pay®, which allows talent to receive funds within minutes to the employee account on the disbursement platform to meet immediate financial obligations. In addition, clients can choose CHANGE Same-Day Pay™, enabling employees to receive payment on the same day for completed work, even on weekends. These two features allow payment to any employee through CHANGE Disbursement, which allows for the employee to choose deposit to CHANGE or to another bank account of their choice. Each of these options permits the processing of a payroll to the employee within minutes, any time of the day, any day of the week. All these options can make an agency more attractive to job seekers looking for greater choice and faster access to pay.
Over *40% of US smartphone owners use a mobile pay app for their purchases. All these options provide much-needed flexibility and convenience for employees to receive their pay faster, more securely – and with greater choice in how and when it should be delivered. CHANGE also provides a unique set of tools for the Client to enhance payroll.
With CHANGE now integrated into Avionté, you can get a full, end-to-end payroll solution from a partner who processes over $15 billion in wages yearly. And what's more, with this integration, you only need a single sign on to service your employees, and don't need to login to multiple sites.
CHANGE provides Avionté clients with even more tools in the toolkit to attract employees who want greater flexibility and control over their compensation. By giving talent the option to choose how and when they get paid, staffing agencies can improve employee satisfaction, boost productivity, and strengthen their ability to attract and retain skilled workers – all while relieving your agency of the cost and burden associated with processing and delivering paper paychecks.
* 22 Mobile Payment Statistics Detailing the Industry's Growth (moneytransfers.com)
Banking services provided by and the CHANGE® card issued by Green Dot Bank, Member FDIC, pursuant to a license from Visa U.S.A., Inc. Visa is a registered trademark of Visa International Service Association.
Avionté Updates Brought Straight to Your Inbox